The worldwide spread of COVID-19 (coronavirus) has dramatically increased pressure on organizations to close physical offices and enable employees to work remotely. Companies looking to ensure business continuity are adopting collaboration tools like Microsoft Teams and Slack to enable chat, file sharing, and meetings. In some cases, companies are expanding use of features in existing tools like Chatter in Salesforce. We have been inspired by Microsoft's example in making premium features of Teams available for free. To help business adapt to COVID-19, we are offering a 30-day trial for security solutions covering Microsoft Teams, Slack, and WhatsApp.
Why? As workplaces become more digital, these critical tools present new and unique risks, coming from both internal and external sources.
Internal Risks to Collaboration Platforms
A rapid increase in users also means a rapid increase in communication. Even small organizations can produce upwards of 3,000 messages per day in collaboration chat channels. With the speed and scale of communication, you can have:
Accidental sharing of malicious links.
Compliance violations (e.g., sharing of customer PII).
Data loss through attachments.
Violations of acceptable use policies, such as inappropriate imagery, harassment or bullying.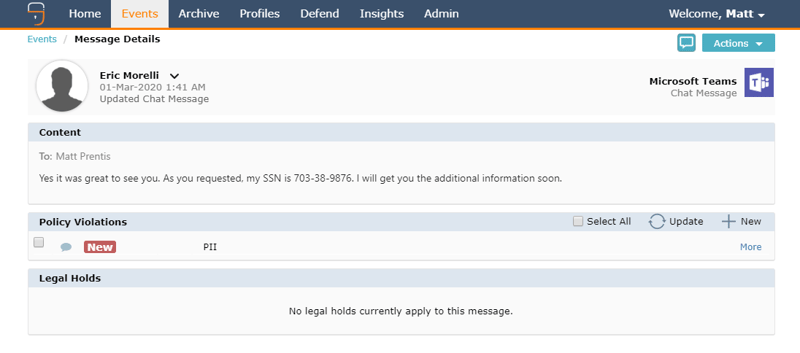 External Risks to Collaboration Platforms
Bad actors will attack where your employees are. It's naïve to think they aren't also watching the news and seeing that companies are being forced into more remote work scenarios. As reliance on collaboration platforms grows, bad actors will seek to infiltrate these channels. By phishing employees and stealing credentials, bad actors can impersonate employees to share malicious links or files.
COVID-19 is a major business and market disruption. The need to scale remote workforce solutions is a very real business problem, but haphazard platform adoption presents an equally serious security challenge. Be sure involve risk and security teams in technology decisions and protect your employees and your enterprise. It's impossible, at this point, to tell when the danger will abate. And even when it does, there is no guarantee that workforce norms won't be permanently altered. Stay safe and stay healthy.
Last updated
January 2, 2021
Written by
SafeGuard Cyber Team