Damage to a brand's reputation can happen in the briefest of moments and impose lasting, long-term consequences on revenue. Luxury brand Dolce & Gabbana learned that the hard way last week. Dolce & Gabbana released a series of videos advertising their fashion show in Shanghai. The videos received criticism across social media platforms for being racist and enforcing stereotypes of Chinese women.
So the company removed the videos. However, the show itself, #DGTheGreatShow, was still scheduled to go on:
But that's not the end of the story.
Criticism escalated to crisis when offensive messages allegedly from founder Stefano Gabbana's Instagram account were screen captured and went viral. The messages quickly circulated through coverage from influential fashion bloggers. Key celebrities and models responded by pulling out of the fashion show. Soon after, Dolce & Gabbana released a statement saying that both the official brand Instagram account and that of co-founder Stefano Gabbana were hacked: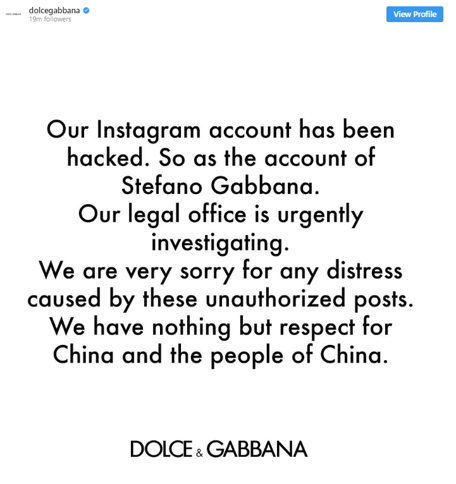 Then, they canceled the fashion show and released a statement of apology, followed by a video shortly afterward: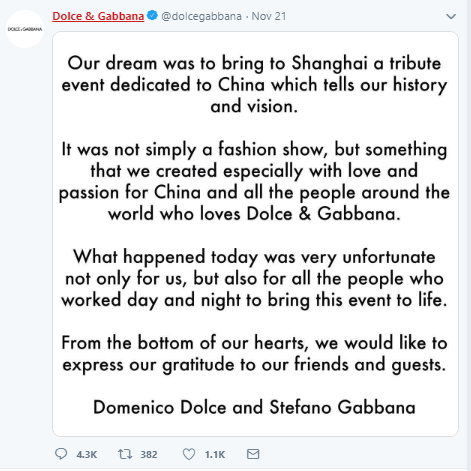 Whether you believe the claims of a hack or not, the truth cannot offset the cost of a damaged reputation. Incident has already proven embarrassing to the brand and damaging to the bottom line. The expenses of the show setup notwithstanding, the company's sales took a hit on Black Friday, one of the biggest days on the retail calendar. More importantly, Dolce & Gabbana products were pulled from China's major e-commerce sites, a devastating blow given China's growing importance as a critical growth market for luxury goods. Longer-term, if consumers continue to heed calls to boycott the brand, there could be serious hits to future revenue and growth.
The damage is done, and retailers should take note. In a matter of days, hours even, a brand's reputation was tarnished and isolated an entire market. Retail and luxury brands, in particular, were quick adopters of social media precisely because the technology empowered these companies to connect directly with consumers. But the power of social media means brands must be vigilant in protecting their accounts. In this age, a brand's information and digital assets form a core business function. In the case of D&G, assuming there was a hack, if the account takeover had been detected in real-time, the resulting crisis may have been prevented. Thus, ensuring brand reputation and not losing out on a key market.
Empower your company to protect your brand and reputation on social media & other digital channels. Contact us today for a free risk assessment and gain visibility into your digital risk exposures.
Whitepaper: Learn more about social media benefits and risks.