Managing Digital Risk for Enterprise Cloud Applications

Beyond all the hype, the transformation of enterprise IT to the cloud-based enterprise applications is well under way. As employees and consumers have become accustomed to the functionality and ease-of-use of well-designed cloud-based solutions and services, enterprise organizations have been encouraged to adopt similar workflows for their own business critical applications. The advantages of cloud-based application strategies are numerous, from lower upfront costs and easier maintenance, to improved collaboration and information sharing, to assured scalability and mobile friendly features. And time-to-value may be a key driver as businesses of all sizes are freed to focus their efforts on core competitive differentiators. Consider how the enterprise IT infrastructure footprint has changed with the adoption of many of these industry-leading purpose-built enterprise cloud applications.
However, one concern with wide-spread adoption of cloud-based applications across the enterprise organization is how to manage the increased exposure to cyber security threats and compliance risk that are endemic on these channels that are by definition - outside the firewall.
IT directors, CISOs, and compliance officers often lack adequate visibility to employee activities on these channels that is necessary to understand and manage the internal risk exposures, let alone how to safeguard their mission-critical business operations from a plethora of external cyber threats and compliance risk as they encourage collaboration and other engagement with their partners, supply chain and customers on some of these same channels. Collectively, it's all digital risk.
Compliance Risk

- Certain industries are governed by internal business policies and/or regulatory requirements that require them to supervise all electronic communications, as well as preserving all content in an immutable archive, under retention management with full audit trail for e-discovery and litigation readiness – enterprise cloud application would be no exception. Compliance violations can result in heavy fines, penalties and litigation exposure.
Cyber Threats

- Bad actors find digital channels attractive targets for cyber-attack because they are relatively easy to compromise – malicious content postings, account impersonations & takeovers, malware infections, phishing and BOT attack are among the most common threats.
Insider Threats

- As many as 60% of cyber incidents originate with insiders, including employees, contractors, consultants; knowing that email communications may be supervised <> insiders often elect to use other digital channels to hide wrongdoing; also, digital channels have proven to be the easiest point of ingress or egress for other malicious activity.
Brand and Reputation Damage

- Digital assets are often the target of brand impersonation attempts, social engineering campaigns or digital sabotage; even malicious customer posting can result in brand damage, loss of revenue and shareholder value.
Data Security & Privacy Concerns

– Privileged information or personally identifiable information (PII) is shared, perhaps innocently, but in violation of data security or privacy policies.
Legal Exposure and Litigation Risk

- Inability to preserve the digital "chain of evidence" for eDiscovery leaves the enterprise vulnerable to spurious legal attack.
Failure to implement adequate digital risk protection can result in some of the most high-profile, reputation-damaging threats and compliance violations that grab news headlines –with catastrophic financial fallout including revenue decline, loss of market cap, and potentially huge litigation expense.
The SafeGuard Cyber Solution
SafeGuard Cyber delivers the leading SaaS platform to manage the full life cycle of Digital Risk Protection for Veeva, SalesForce, Microsoft Office 365, Microsoft SharePoint, Dropbox, Sprinklr, Hootsuite, Sprout Social, and other enterprise cloud channels, so organizations can detect, analyze, defend and prevent cybersecurity attacks in real time – while automating governance and compliance. The SafeGuard Cyber platform empowers security, risk and compliance professionals to protect their social and digital channels while enabling the adoption of these technologies across the enterprise without fear.

Enterprise organizations of all sizes around the world have adopted the SafeGuard Cyber SaaS platform approach as the most comprehensive way protect their digital channels from the dual threat of cyber exploits and compliance vulnerabilities that occur outside the perimeter of the firewall, including the following capabilities:
Real-time Compliance

- automates real-time, policy-driven supervision of user activity and communications, with contextual analytics and risk scoring to flag or take down content with high potential for policy violations while reducing false positives; pre-built policies pages for financial regulations including FINRA, SEC, MiFID II, IIROC, MFA, FCA & GDPR; customizable and extendable.
Cyber Defense –

provides independent surveillance of account activity across the organization's digital network; evaluates all postings, images, attachments and links for malicious content, inappropriate behavior, malware or other violations; suspends unauthorized accounts; takes down malicious posting or malware; takes down accounts under suspicion of ATO; deflects BOT attack; places high risk incidents under review for permanent remediation; generates audit trail for events and activities forensic investigation.
Archival Retention

– automates the capture of all communications and content, including all postings, attachments, images, links and meta data across all digital channel, to secure, immutable, compliance archive with full retention lifecycle management and defensible disposition.
eDiscovery and Litigation Readiness

- provides full metadata and text indexing, and advanced search capabilities to enable collection and export for eDiscovery, legal hold in place, as well as APIs to facilitate advanced integration with designated enterprise eDiscovery systems.
Pervasive Channel Coverage

– integrates with over 50 of the most popular digital channels, organized across 4 distinct digital networking categories including social media, mobile communications, collaboration networks and enterprise cloud applications - plus hidden sites on the deep and dark web.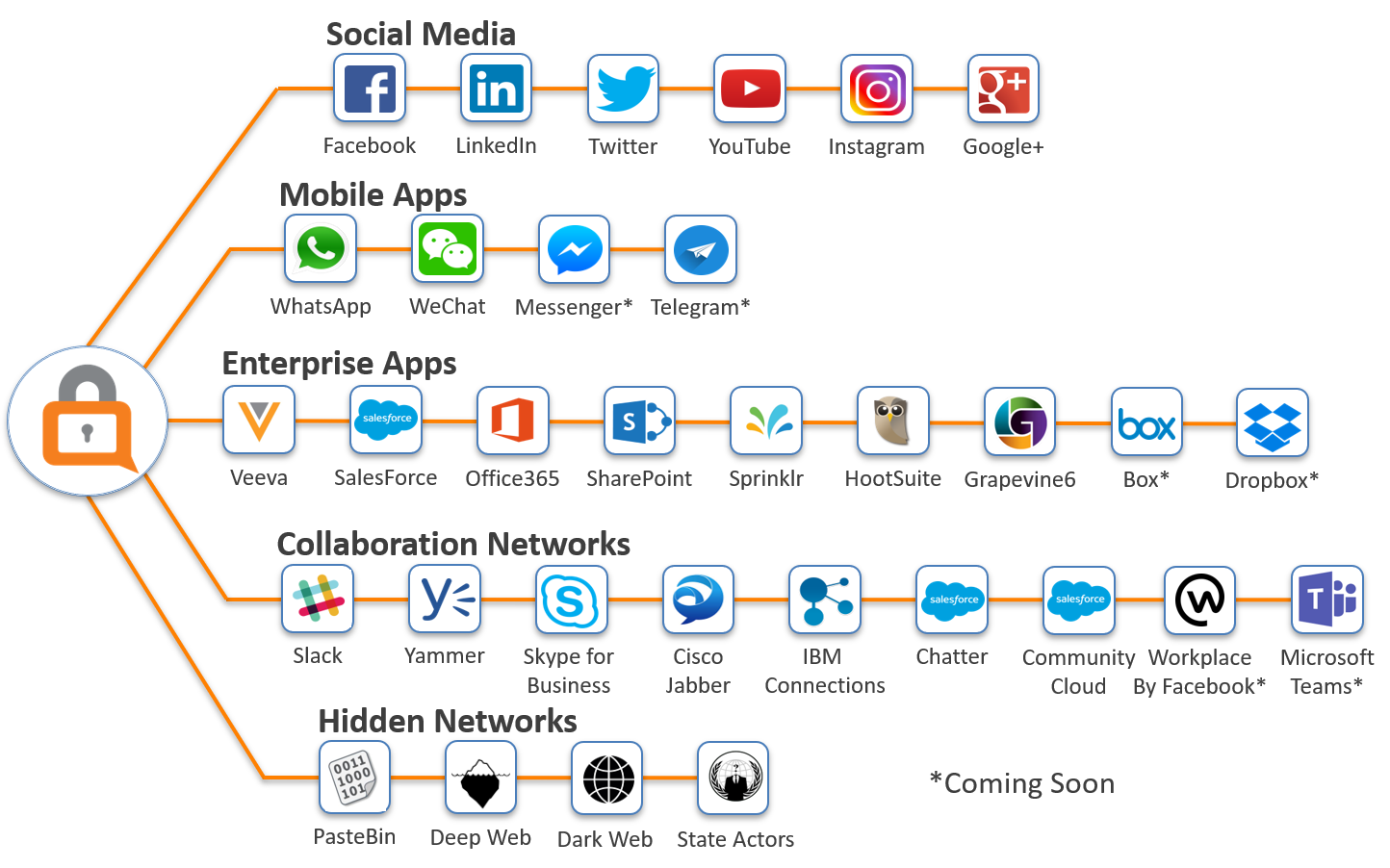 Customers can be up and running in minutes with no on-premises systems to be installed. Pre-configured agents embedded in all the major social and digital channels route the data to our cloud where a powerful AI based system of policies identifies anomalies and takes real-time steps to protect the enterprise at massive scale.