Protect Against Data Loss

Employees, partners, and customers share information every day as part of the normal communications and business workflow. Yet when sensitive information is shared across digital channels without safeguards, there is risk that it may fall into the hands of unauthorized recipients or even cyber criminals – in violation of corporate policy and with potentially catastrophic consequences.
There is a need to safeguard social media postings and other digital communications against deliberate or accidental disclosures of confidential or personally identifiable information in violation of law or various privacy regulations. These types of information are often the targets of insider theft and misuse, but also the focus of cyber-criminals who can exploit such information for high value on the dark web.
Sensitive Information

- Pre-released financial results or product information, M & A activity, partnership agreements, intellectual property, patents & trade secrets all represent examples of sensitive information that needs to be protected from deliberate or accidental disclosure.
Data Privacy & Personally Identifiable Information

– Social Security numbers, credit card numbers, health records, are all examples of personally identifiable information (PII) that should never be shared on public social media sites, or even in "private" conversations on digital channels without adequate security precautions that satisfy the various data privacy regulations in force around the world, PII, PHI, GDPR.
Advanced Digital Risk Protection
SafeGuard Cyber delivers the leading SaaS platform to manage the full life cycle of Digital Risk Protection, so enterprises can detect, analyze, defend and prevent cybersecurity attacks in real time – while automating governance and compliance. The SafeGuard Cyber platform empowers security, risk and compliance professionals to protect their social and digital channels while enabling the adoption of these technologies across the enterprise Without Fear.
SafeGuard Cyber employs a variety of compliance and cyber defense techniques to prevent misuse or misappropriation of sensitive information by unauthorized users and recipients. With pre-established policies, the platform can analyze social media channels such as Facebook, LinkedIn and Twitter, collaboration channels such as Slack, Skype for Business and SalesForce Chatter, mobile channels such as WhatsApp and WeChat, and enterprise cloud apps such as Sharepoint and Veeva, for postings and attachments to flag references to sensitive information. Scoring algorithms look at keyword, phrases, patterns and regular expressions to surface suspected PII violations in the posting or attachment, and take policy action to quarantine such messages for subsequent review.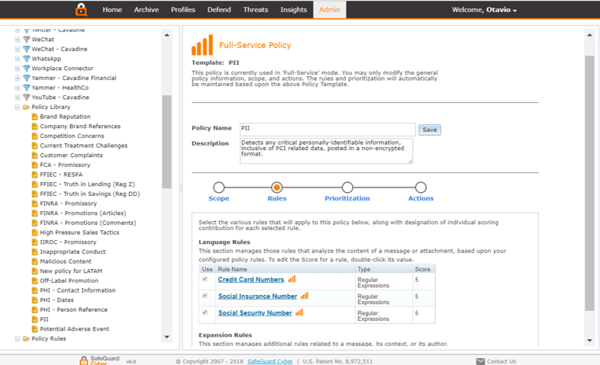 SafeGuard Cyber's policy rules can detect personally-identifiable information, including PCI related data
Advanced cyber defense capabilities to surveil the dark web, including paste bins, commerce sites & discussion forums, identifying digital assets that place enterprise organizations at risk for cyber-attacks and other fraudulent activities– assets such as account credentials, PII, or intellectual property and other confidential documents. Once identified, alerts can be forwarded to appropriate security organizations and action can be taken to remediate threats and ultimately take down or neutralize compromised enterprise assets.
Pervasive Channel Coverage
SafeGuard Cyber supports comprehensive coverage for over 50 of the most popular digital channels, organized across 4 distinct digital networking categories including social media, mobile communications, collaboration networks and enterprise cloud applications - plus hidden sites on the deep and dark web.