Managing Risk for Public Social Media Networks

As enterprise business models become more reliant on digital growth strategies, successful engagement on Facebook, LinkedIn, Twitter, Instagram and other public social media channels are becoming essential aspects of their corporate execution and performance.
With increased dependence on public social media channels to accelerate go-to-market and build social engagements across employees, customers and prospects, organization must also face the reality that the social media and digital ecosystem bring with it all forms of digital risk, including cyber threats, data security and privacy concerns, and corporate / regulatory compliance issues. Failure to implement adequate digital risk protection can result in some of the most high-profile, reputation-damaging threats and compliance violations that grab news headlines –with catastrophic financial fallout including revenue decline, loss of market cap, and potentially huge litigation expense.
Account Authorization

– Users need account authorization and training on corporate guidelines for posting content and appropriate behavior when representing the organization on public social media networks.
Impersonations

– Bad actors may establish seemingly authentic accounts while in fact, impersonating executives or employees for potentially malicious purposes.
Malicious Message Content

– Any content posted to the channel that has potential to do harm to the organization (e.g. racist commentary, links to harmful/malicious websites; insiders are responsible for generating upwards of 50% of malicious content.
Image

Sharing

–

Image postings can often serve up inappropriate content or inject malicious code if clicked.
Link Sharing & Attachments

- Sharing links and attachments are so easy on platforms like Facebook, but employees or customers can easily share malicious links (e.g. malware) or attachments that can compromise accounts.
Account Take Over

– Even when your account settings are at the highest level of security (e.g. 2FA), they are still vulnerable to exploitations, impersonations and account takeover (ATO) attacks on employees and key executives.
BOT Attacks

– A botnet attempts to impersonate accounts on a massive scale to sway sentiment.
Fake Sites & Phishing Attacks – Many bogus sites are destinations for phishing attacks. Such sites have the precise look and feel of the company's real website, thereby tricking visitors into revealing login credentials and other private information.
Data Security & Privacy Concerns

– Privileged information or personally identifiable information (PII) is shared, perhaps innocently, but in violation of data security or privacy policies.
Data Security & Privacy Concerns

– Privileged information or personally identifiable information (PII) is shared, perhaps innocently, but in violation of data security or privacy policies.
Business and regulatory compliance

– Certain industries are governed by internal business policies and/or regulatory requirements to supervise all electronic communications (which includes social media posting), as well as preserving user activity and all content for archival retention, audits and potential litigation and e-discovery.
The SafeGuard Cyber Solution
SafeGuard Cyber delivers the leading SaaS platform to manage the full life cycle of Digital Risk Protection, for Facebook, LinkedIn, Twitter, Instagram and other public social media channels, so enterprises can detect, analyze, defend and prevent cybersecurity attacks in real time – while automating governance and compliance. The SafeGuard Cyber platform empowers security, risk and compliance professionals to protect their social and digital channels while enabling the adoption of these technologies across the enterprise without fear.

Enterprise organizations of all sizes around the world have adopted the SafeGuard Cyber SaaS platform approach as the most comprehensive way protect their digital channels from the dual threat of cyber exploits and compliance vulnerabilities that occur outside the perimeter of the firewall, including the following capabilities:
Suspension of Unauthorized Accounts

–monitors every account independently across the organization's digital network for access authorization and will suspend unauthorized accounts while also generating notifications and audit trail for analysts review.
Takedown of Malicious Content

– evaluates all postings, images, attachments and links for malicious content, inappropriate behavior, malware or compliance violations; security controls can take immediate action to take down and quarantine content that exceeds risk thresholds for further review and permanent remediation.
Takedown of Compromised Accounts

– monitors for suspicious behavior, account settings, evidence of impersonations, and any other indicators that accounts have been compromised, and can take immediate action to take down accounts under suspicion of ATO as well as quarantine of any associated content postings.
Supervision for Regulatory Compliance

– provides real-time, policy-driven supervision and analysis of user behavior and content to identify potential business and regulatory compliance violations; applies content analytics and risk scoring to identify the most probable policy violations while reducing false positives.
Extensive Policy Library

– provides extensive policy library, enabling automated supervision across some of the most broadly applicable business policies including Brand Integrity, Reputation, Business Conduct, Anti-Harassment, Privacy (PII, GDPR); and industry-specific regulations including FINRA, SEC, FDA, MiFID II, NFA, IIROC, MFA, FCA, HIPPA. Policy rules can be easily extended or customized to meet further organizational requirements.
Archival retention

– provides automated capture, retention, immutable preservation with full audit trail for all content posting across all supported social media and digital networking hubs, including all cyber activity, capture of deep links and content of referenced web pages.
Legal Hold and eDiscovery

–provides full metadata and text indexing, legal hold, advanced search and retrieval; to manage investigations and legal hold in place, as well as APIs, exports, other capabilities to facilitate advanced integration with designated enterprise eDiscovery systems.
Pervasive Channel Coverage

– integrates with over 50 of the most popular digital channels, organized across 4 distinct digital networking categories including social media, mobile communications, collaboration networks, and enterprise cloud applications - plus hidden sites on the deep and dark web.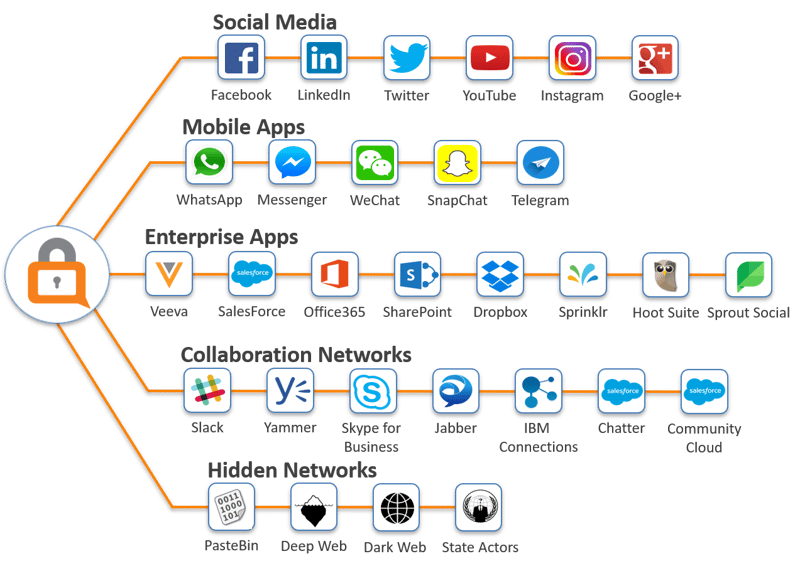 Customers can be up and running in minutes with no on-premises systems to be installed. Pre-configured agents embedded in all the major social and digital channels route the data to our cloud where a powerful AI based system of policies identifies anomalies and takes real-time steps to protect the enterprise at massive scale.