The Enterprise Email Security Landscape, Q1 2023
Executive Summary
According to Forrester's Security Survey, 2022, 36% of security decision-makers who experienced an external attack named phishing or social engineering as the source.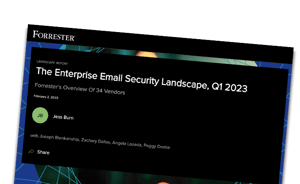 Security leaders and professionals can use this report to understand the value they can expect from an enterprise email security solution and to understand the solutions available.
This report looks at:
Current email risk landscape and market analysis
Innovation in email security with the emergence of cloud-native, API-enabled, email security (CAPES)
Solution providers listed with included size, type of offering, geography, and use case differentiation
SafeGuard Cyber is proud to be recognized as a CAPES vendor in this report.
in SEC fines levied for record-keeping violations for personal messaging apps