more leads in pipeline driven by social selling
Source: Seismic
of companies now view compliance as a barrier to entering new markets
Source: Compliance in the Era of Digital Transformation
of organizations see risk management as reactive and costly vs proactive
Source: Disruption is the New Norm: Risk Management Survey Report
451 Market Insight Report: SEC Reins in Use of Messaging Apps
$1.8 billion in SEC fines have been levied for recordkeeping violations for personal messaging apps. Download the report to learn more.
Download Your Copy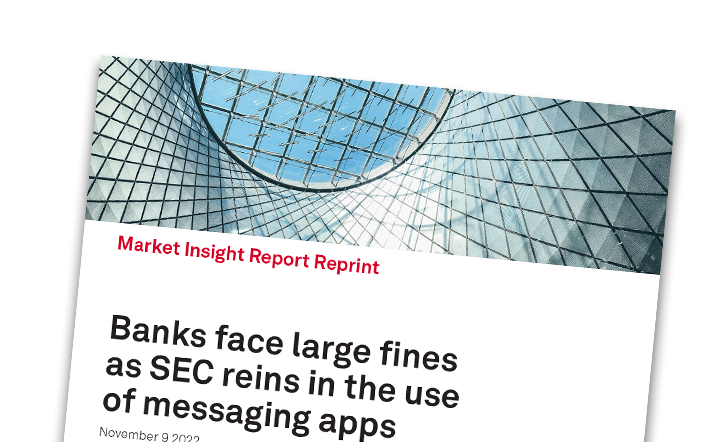 Drive revenue through social media with automated compliance
See how SafeGuard Cyber and Seismic LiveSocial deliver the best-in-class Social Selling solution.
"Our compliant social selling program means more recruiting opportunities and better content for our audience, which is almost entirely made up of independent financial advisors.
All in all, this is a big win for Financial Horizons because of our strategic partnership with SafeGuard Cyber and Seismic LiveSocial."
John Biner
Digital Marketing Director, Financial Horizons
See How Customers Drive Growth with Compliant Social Selling
"Banks are always looking for ways to engage and communicate quickly with customers. Social media allows them to do that. And, SafeGuard Cyber empowers banks to ensure compliance for social media communications. The platform is easy to use, and the ability to quickly pull reports is essential for companies as heavily regulated as banks."
Jill Williams
Owner and Social Media Marketing Manager
Enable compliant social selling with SafeGuard Cyber


Enterprises keep track of their social platforms to ensure adherence to social media regulations and compliance. But as enterprises grow ever more reliant on social media to boost their digital presence, expand the reach of their brand, and strengthen relationships with partners and customers, automated social media compliance becomes more imperative than ever.
Policy-based Governance
Automate policies for industry regulations.
Comprehensive Social Media Coverage
Eliminate manual review and respond to violations in real time.
Archive All Communications
Archive communications to ensure compliance, including FINRA 2210.