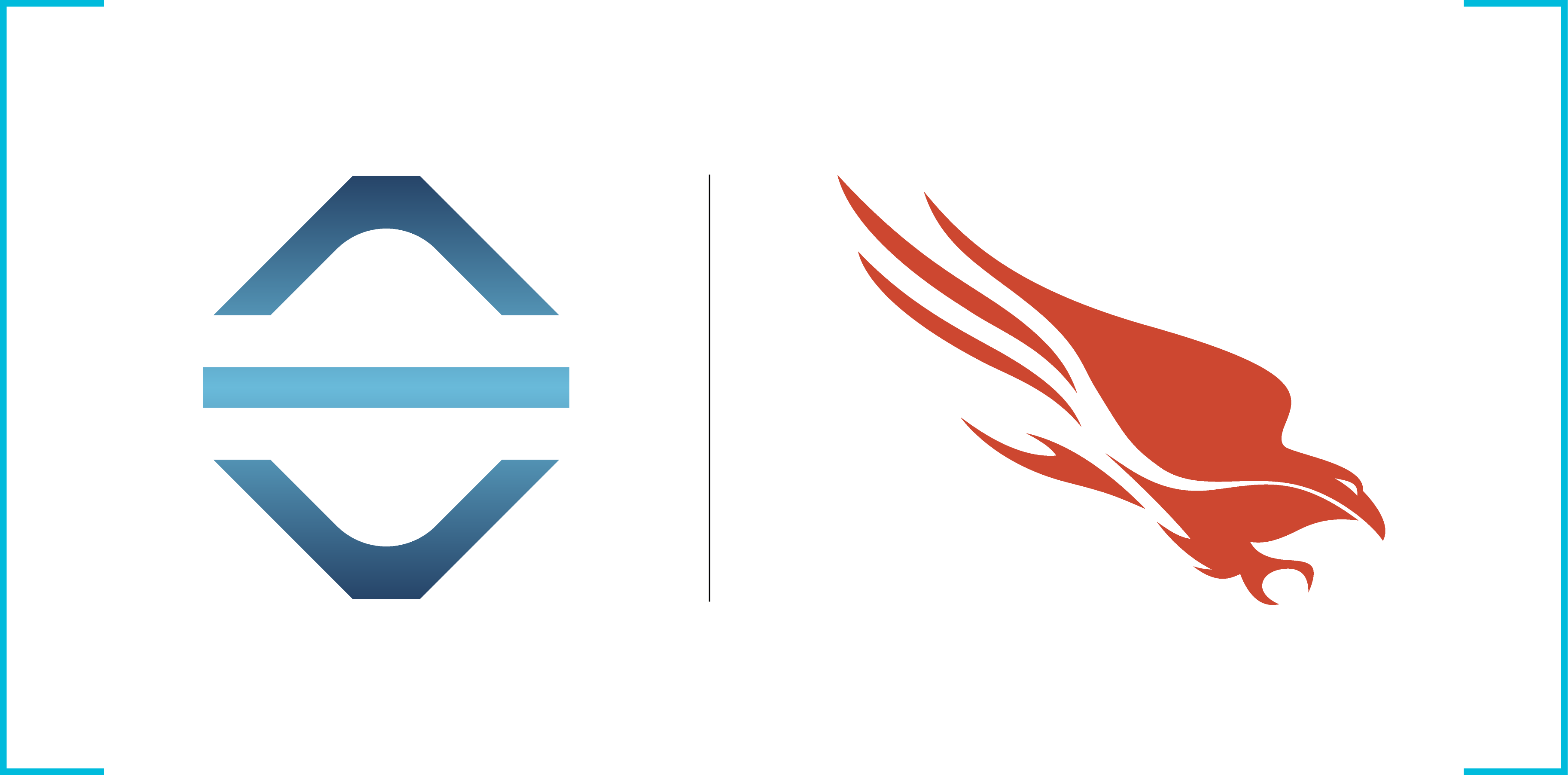 Executive Summary
From civic awareness to crisis communications, social and digital channels have become one of the most important tools for government organizations at the local and state level. Moreover, these channels are critical enablers of eGovernment, empowering state and local governments to engage with the public in meaningful ways and provide services with greater transparency and efficiency. However, increased digital activity has also increased the risk of cyber attacks on government agencies.
While the benefits of social and digital technologies to the government are indisputable, addressing the government data security is a problem. It is also the case that every agency has potential to suffer cyber security attacks, widespread misinformation, or data loss and compliance violations. The borderless nature of the digital space means greater digital risks for the government and even municipal and state level governments are no longer immune to wider geopolitical conflicts, as cyber security attacks are driven by financial gain. In fact, such entities may even present more lucrative targets for cybercriminals, as the common perception is that state and local organizations have subpar cyber security measures in place.
These new work styles have opened up fresh cybersecurity vulnerabilities. Ever opportunistic, criminals are increasingly targeting personal devices used by remote workers, VPN coverage gaps, and collaboration apps, resulting in record numbers of attacks.
This whitepaper describes how and why cybersecurity must adapt to the changing network attack surface, and how CrowdStrike and SafeGuard Cyber work together to help organizations coordinate their response to threats across all their managed endpoints.
The Next Normal
The COVID-19 pandemic is expected to have an ongoing impact on the way companies work in the coming month and beyond. During the pandemic, remote work became the rule rather than the exception. Ongoing safety concerns and the productivity and revenue gains employers have realized from telework have encouraged many organizations to extend WFH or adopt hybrid policies. A recent Gartner survey found that 74% of CFOs and finance leaders plan to move at least 5% of their previously on-site workforce to permanently remote positions post COVID-19. Just a few of the companies embracing WFH or hybrid operations include Fujitsu, Google, Facebook, Amazon, Microsoft, and Twitter.
With employees no longer able to collaborate in person, the shift to remote work has accelerated the adoption of cloud-based collaboration platforms and mobile-chat channels, such as:
Slack
Zoom
Microsoft Teams
WhatsApp
LinkedIn
WeChat
For example, Microsoft reported that over the first months of the pandemic, Teams usage grew from 44 million to more than 75 million daily active users. Organizations are using these technologies for remote meetings and to make online collaboration more seamless and cohesive.
Growing Security Vulnerabilities
As more workers telework more of the time, the network perimeter is vanishing. Workers who were once physically seated in local offices using computers connected to the corporate network to access applications in on premise data centers are now connecting to corporate systems remotely.
These remote workers often rely on personal devices, home networks with legacy routers, and IoT devices to obtain corporate resources. These devices and networks simply don't have the same security as company-owned devices inside the firewall. Yet most organizations' security architectures are designed for on-premises users and data centers.
Phishing remains one of the most common digital threats facing the public sector, not least because it's the main vector for data theft and malicious software infections, like ransomware. Social engineering scams may be waged against the state, local and federal government organizations alike by foreign actors, unscrupulous political opponents or hackers. Given that digital data is now one of the most powerful and valuable commodities on the planet - digital risks for the government are high too. Malevolent actors are using it to command high ransoms, sow public discord, or even influence election outcomes.
As remote work grows, the network perimeter is vanishing. Yet most organizations' security architectures are designed for on-premises users and data centers.
Work from anywhere

VPNs Are Insufficient
Organizations have traditionally employed VPNs to secure access for remote workers to corporate data/apps located on-premises or in online collaboration apps. Yet, VPNs may not be available for everyone, leaving some employees to use their home networks for corporate access. If they do have a VPN, it might not be set up properly. Or, employees may forget to use it every time due to the stress of working from home with kids under foot. The work space has also shifted, with working norms in flux. Employees may respond to requests away from home or while connected to public wifi networks.
This transformation of the way work is done creates a large attack surface with huge cyber risk exposure for the enterprise.
Cyberattacks are Increasing While Visibility is Decreasing
These vulnerabilities have not gone unnoticed by cybercriminals and nation state actors. Remote workers are highly susceptible to attacks such as spear phishing, account compromise, cyber espionage, and zero-day exploits.

Hackers use these attacks to steal legitimate credentials so they can access the corporate network through the front door. Or they download malware onto the end users' machines or devices. Either way, cybercriminals then penetrate the enterprise network and move laterally across it, often remaining undetected for long periods. Such attacks can exfiltrate data, infect networks with Ransomware, or provide an avenue for extortion, where attackers threaten to release sensitive exfiltrated data as a backup to ransomware. According to the Global Threat Report 2020, ransomware represented 26% of all eCrime threats reported in 2019. That percentage climbs to 37% of threats when ransomware reports were combined with malware operated by big game hunting adversaries.

As more employees collaborate online, insider threats have become a growing issue as well. A 2020 report by Ponemon Institute found that the frequency of insider incidents spiked 47% since 2018. Insider attacks include malicious threats as well as deliberate or unintended data leakage. For example, employees might send data to their home network or to unsecured printers.
Employee Conduct Can Increase Enterprise Risks

Internal threats can also include employee conduct which results in regulatory compliance and business conduct violations. Employees might make sexist or racist remarks or irresponsible comments on these channels. Unlike in in-person meetings where it can be difficult to prove inappropriate behavior, collaboration tools capture these interactions in texts where they can be verified. Companies need to catch these incidents in realtime. This task is daunting due to the volume and velocity of digital communications. One Fortune500 insurance customer with 5,000 employees is producing over 150,000 Slack messages per day since migrating to remote work.
Risks Magnified by Lack of Visibility

Security teams now suffer from a massive visibility problem, exacerbated by the rapid adoption of cloud-based SaaS applications and the physical distribution of physical endpoints. Without a line of sight into these apps and the business communications they contain, it becomes increasingly difficult to respond to threats in real time. Every second counts. Once a malicious attachment or link is opened, security teams are playing catch up. Enhanced visibility enables proactive security and more rapid response times.
What's Necessary in a Security Solution?
The paradigm shift in the way employees work necessitates changes in the way security is deployed. To secure a remote, distributed workforce that uses cloud apps, organizations must shift from securing on-premises network systems to securing employees where they are physically (distributed around the world) and where they communicate (in the cloud).
Organizations need a cloud native approach to secure the technologies that empower the workforce and allow them to be productive from anywhere. A cloud native approach delivers a number of benefits. It can:
Be deployed on any network (on-prem, VPN, WiFi).
Support every workload everywhere—even if they are outside the firewall or offline.
Provide enhanced visibility across an enterprise's entire digital footprint.
Protect apps on any device (laptop, smartphone, tablet). For example, if a user is sent a phishing link in LinkedIn, she must be protected whether she accesses the message on the LinkedIn app on her mobile device or in a browser on her laptop.
Stop attacks in the cloud or in the app before they can transit to corporate networks with the help of machine learning and risk analytics.
Provide scalability to support the volume and velocity of communications in the cloud, enabling organizations to provision resources as needed to flex up or down with user demand.
Add business value by opening up new channels to business users in a secure and compliant manner.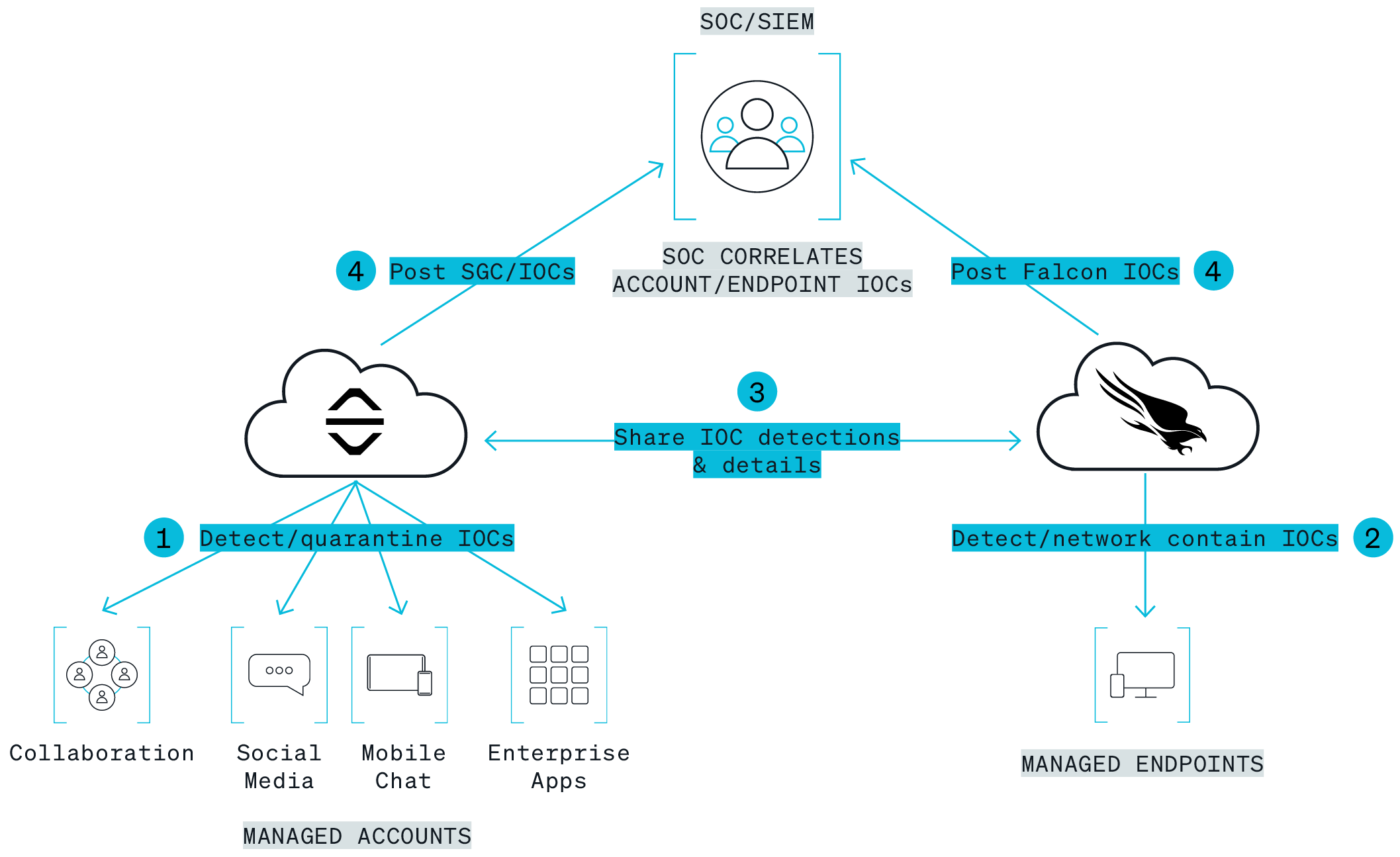 The Leading Solution: SafeGuard Cyber + CrowdStrike
SafeGuard Cyber's digital risk protection is purpose-built to operate in the cloud as the first line of defense for the remote workforce. SafeGuard Cyber offers:
API-based integration directly with digital collaboration, mobile chat and social network apps.
Ability to detect spear-phishing, malware attachments and links (including ransomware), and compliance violations directly in the messaging stream as they are received or posted.
Ability to remediate many cyber threats before they can propagate to managed endpoints.
Ability to provide early visibility to cloud-based attacks that may be targeting corporate networks.
When users employ cloud-based applications, the SafeGuard Cyber platform monitors these communication sessions in the cloud, no matter what device the user is using. During these sessions, the platform scans for code patterns and behavior indicative of malware, malicious content, high-risk social connections, account impersonations and takeovers, or compliance violations.

Upon identification of suspicious content, it will run it through a static analyzer and then a sandbox as necessary to determine whether it's malware, and if so, get a threat signature or put zero-day attacks into a sandbox. This stops malicious files before they can transmit from digital accounts to endpoint devices.
CrowdStrike protects all your endpoints in the cloud by detecting malware when it is activated on the endpoint.
If someone downloads a malicious macro in a Word Doc, the CrowdStrike Falcon® platform will detect and prevent the macro from running when the user clicks on it. The CrowdStrike Falcon® architecture is built from the ground up to protect managed endpoints wherever they reside. That means:
Employees are protected regardless of what device they're connecting from or whether that device is located on-premises, in a remote office, or at home.
Workloads can be safeguarded everywhere, even outside the firewall or offline.
Protection scales up and down according to the needs of the customers.
IT has comprehensive visibility into who and what is on the network, regardless of where they're connected.
Implementation is through a lightweight agent on each device that has minimal impact on device performance and continuously monitors without additional reboots or downtime.
CrowdStrike's team of security experts performs implementation, management and incident response as a turnkey endpoint security service, including proactive 24/7 managed hunting for adversary activity so that you can detect and block attacks before they wreak havoc on your environment.
The result is an instantly optimized security posture without the burden, overhead, and cost of managing a comprehensive endpoint security program.
SafeGuard Cyber
extends the
Falcon® platform's
visibility to the messaging level in over 50 social, mobile, and collaboration applications — areas that have traditionally been blind spots for security teams. These include platforms such as Facebook, Twitter, Microsoft Teams, LinkedIn, Slack, and even mobile apps like WhatsApp and WeChat.
Conclusion
Increased remote work and online collaboration has forced organizations of all types to contend with growing cybersecurity vulnerabilities and breaches. CrowdStrike and SafeGuard Cyber work together to give you visibility into cyber threats on both your endpoint devices and your cloud-based SaaS applications. Because these solutions are built from the ground up for the cloud, IT has complete visibility into employee endpoints and workloads and can protect any device from any location—on-premises, remote or in the cloud. And you benefit from the cloud advantages of scalability, simplified implementation, and as a service delivery.
Your organization may be using cloud-native apps without your knowledge or may request your assistance in evaluating the security and compliance of communication and collaboration apps outside your network. Either way, your security team's ability to defend against today's increasingly sophisticated targeted attacks depends on your visibility and defense strategy. Asking key stakeholders the following questions and working with your CrowdStrike and SafeGuard Cyber Team will help you be ready for secure and compliant growth in any circumstance and on any device.
Secure Human Connections
Ready to see how SafeGuard Cyber secures modern communication apps wherever they exist?