Takeaways in this post:
Telegram is being adopted as an agile business communication tool because of key features like communities and file sharing.
Despite the message encryption, Telegram still poses security and compliance risks.
Controls can help security and compliance protect end users, customers, and company systems from malicious payloads and regulatory compliance risks.
Why Telegram?
More companies are turning to mobile apps to get work done in ways that offer the least friction, especially since the beginning of the COVID pandemic. Among these, Telegram has been a favorite of disruptive financial services and crypto currency firms for its simplicity, speed, flexibility, and built-in encryption.
The app also supports businesses with the ability to have groups of up to 200,000 users, with support for photos, videos, and files of any type. As a result, Telegram has emerged in these industries as a preferred alternative to Facebook-owned WhatsApp.
A number of our customers includes innovative financial firms and digital currency brokers that have embraced apps like WhatsApp and Telegram. These disruptive players adopt mobile apps faster than traditional banks, making them incredibly agile and responsive to clients. Telegram's features, ease of use, and amenability to developers has spawned an ecosystem of third party tools, like Telefuel, that supercharge the cloud-based app into enterprise-level software for collaboration and client communication.
But Isn't Telegram Encrypted?
Telegram is widely considered to be one of the most secure messaging apps in the world. However, even encrypted mobile chat apps are subject to security and regulatory compliance concerns. With the ability to host large groups (up to 200,000 users) and large file sizes (up to 1.5 GB), Telegram users remain vulnerable to spear-phishing, ransomware, and cyber-espionage attacks through link and file sharing. A lack of adequate controls can also result in unacceptable compliance risk exposure. Users may intentionally or accidentally share customer PII or engage in conversations that violate regulatory compliance. Our customers approached us to develop a solution that would help them reduce these risks and ensure legal readiness by storing full conversations in a searchable archive with audit trails for every action.
Enabling Telegram with Robust Security and Compliance
Our platform now addresses these concerns by extending our award-winning security and data loss prevention capabilities to Telegram messages. Customers will now be able to:
Capture Telegram content in real-time
Apply security and compliance policies
Automatically quarantine messages that pose data loss or compliance risks
Scale protections to multi-regional deployments, regardless of language or regulatory differences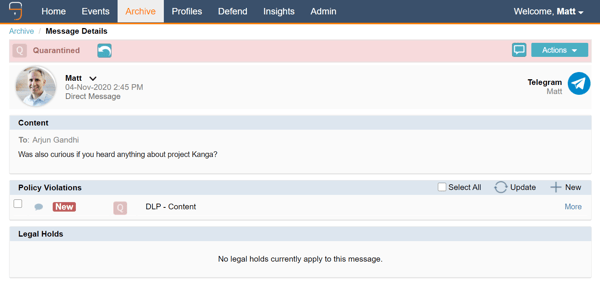 Example: Message quarantined automatically for DLP policy violation
In our recent Digital Risk Survey, 600 senior IT and security professionals cited the use of unsanctioned apps as the biggest security and compliance challenge. We're proud to give security and compliance teams a scalable solution to enable Telegram as a sanctioned channel.
Download: Telegram Security & Compliance
[Solutions Brief]
Through the end of the year, we're waiving service fees for Telegram licenses. Learn more about getting started with Telegram.
Last updated
November 14, 2020
Written by
George Kamide