We talk with Evelyn de Souza, former Chief Technology and Architecture Officer at Cisco, and industry thought leader for cloud security and data privacy. Our conversation ranges from problems with how privacy is not included in design to the best way to bridge the security education gap by applying security in a digestible way for business users. She shares how she got into the technology field, gives us a sneak peek into her new startup Virtuoso. AI, and why privacy is on the top of her mind.
Guest: Evelyn de Souza, Cloud Security and Privacy Compliance Leader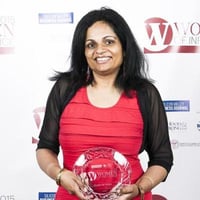 Evelyn de Souza brings 15 years experience of industry leadership, consulting and advisory roles. During her time as the Chief Technology and Architecture Officer at Cisco, she co-invented the Cloud Data Protection Certification, the first cloud data compliance model that has served as a gold standard for customer SLAs and used by leading cloud providers. She has been named to CloudNOW's Top 10 Women in Cloud and a Silicon Valley Business Journal Woman of Influence, and has been recognized by Onalytica several years in a row as being a key thought influence on data safety and cloud compliance.