Spear Phishing is on the rise today because of the confluence of three forces.
1. The Adoption of social and collaboration channels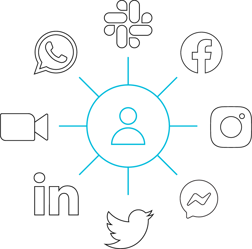 Tools like Microsoft Teams, LinkedIn, and WhatsApp have displaced email as the preferred channels for personal and professional communications.
By the end of 2021, 2 out of 3 businesses are expected to adopt these applications, which completely bypass the traditional enterprise security defense perimeter.
2. The rise of remote workforce and WFH

74% of CFOs intend to permanently shift some employees to remote work.
Home networks are blighted by legacy routers, PCs, and IOT devices. protecting this highly distributed remote environment from attacks and breaches is a major security challenge.
3. The rise of social cyberattacks

Email security is a $3 billion industry. But security for collaboration, chat, and social channels is under-developed. Your average cybersecurity team has no tools that protect them from spear phishing attacks mounted through LinkedIn, Slack, or WhatsApp. Bad actors know this, and are shifting their resources to focus on such channels.
How can enterprises protect their third-party cloud channels from spear phishing attacks?
Enhanced Visibility
Security teams need to be able to discover and onboard all authorized accounts for protection, inspect messaging for malicious content, track new connection requests, and archive all account activity.
Threat Detection
Channels need to be monitored 24/7 for suspicious activity and messaging. All fields, attachments, and links should be automatically scanned for malware, and connections should be evaluated for known or suspicious bad actors.
Incident Response
Malware must be quarantined in real time at the app level, and IOC notification details sent to SOC/SIEM for evaluation. Social attacks need to be correlated with EDR.
Get digital risk protection to gain the visibility and power you need to protect your enterprises, executives, and employees.
Get Started with SafeGuard Cyber Today
Ready to see how SafeGuard Cyber secures modern communication apps wherever they exist?